2015 StrivU Social Media Conference
We're extremely excited to announce that we will be hosting our 2015 Striv Spring Conference on March 24th or 25th at the Heartland Community School Theater in Henderson, NE.
The conference will be held during the morning with registration starting at 8:30AM and ending around lunch (FREE Lunch).
Just like last year the focus for the conference will be all about social media and using it to help share your schools story online. The full schedule of the conference will be released in the coming weeks (the first session will begin at 9AM).
Tentative Schedule:
8:30am – Registration / Snacks
9:00am – Welcome/Kick-off (Take a selfie with a friend and post to social)
9:15am – These will be 20-25 minute sessions and will rotate so you can attend two
– Heather Callihan & Patty Wolfe (How GINW & Cozad use Twitter, FB & Instagram)
– Abbie Friesen & JC Kleier (Designing Graphics for Social Media)
– Derek O'Connor (Senior at Fillmore Central) Using social during broadcasts Q&A
10:00am – Breakout Session (Tell a Story Using Twitter Video – #StrivU15)
10:25am – BREAK
10:30am – 10 Tips to Help Your School Share Your Story on Social Media
10:50am – Breakout Session (Tell a Story Using Instagram Video – #StrivU15)
11:15am – BREAK
11:25am – Keynote Speaker – Chris Gorman HURRDAT
12:00pm – Announce Instagram Video Contest WINNER!
12:15pm – LUNCH (free)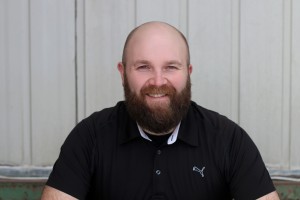 We're also very lucky to have Chris Gorman, Account Executive at Hurrdat Social Media, be our Keynote speaker for the conference on Tuesday March 24th (those attending March 25th will watch the recording). Hurrdat is a digital marketing agency specializing in social media strategy, design and development located in Lincoln, NE. Chris will be sharing what they have learned as a company in the social media world and tips about how to use social media at your school. He will also be answering questions from you and helping students understand what they need to be doing now if they are interested in pursuing a career in the media/marketing industry.
This is a FREE event for all Striv Schools. Non-Striv Schools are invited as well for a cost of $50 per school.
Sign up your school today!

Author: jcstriv
After graduating from Palmer Public Schools in May of 2014, JC started working for Striv TV as the Support & A/V Manager.