2018 Striv Scholarship Recipients
July 9, 2018

Posted by:

Sara Brune
We are excited to congratulate Alec Rome of Omaha Central and Emily Oestmann of Johnson-Brock, who has been chosen as our 2018 Striv Scholarship recipients. Both students demonstrated outstanding scholastic achievement with Striv at their school and plan to further their video, audio, writing, and design skills next fall.
Both of our scholarship recipients have had a unique journey in their creative careers.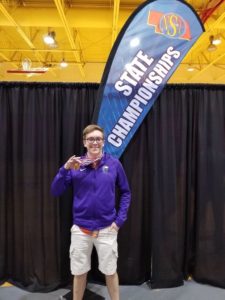 Alec Rome of Omaha Central has broadcasted over 100 events, covering many soccer, football and basketball games at his stadium, state tournament and even the Ralston arena. He has proven that no location or sporting event is too much for him. You can say Alec is Omaha Central's "Striv OG," being one of the first students not only to wear a headset but conduct interviews and assist with all LIVE streaming operations while sporting their purple school broadcasting polo.
Alec is no stranger to the journalism world. He was first introduced to broadcasting at age 10 when he created a radio show with his dad. As a freshman in high school, he started writing for the school newspaper and took digital production classes at Omaha's Career Center.  When Striv came to Central in 2014, during his sophomore year, Alec put his writing and speaking skills to the test and distinctly remembers broadcasting his first football game against Burke High School. "I was really nervous, but I just went for it and loved it," he said.
He credits the excellent staff and educators he has learned from over the years, along with all the hours he spent honing his writing skills, crafting stories and speaking in front of a camera, all as a very pivotal time in his life. He said, "Being involved with Striv was a blessing. I learned not to be afraid of the camera and sharing my real personality in front of a group of people.  I had to be ok with making mistakes and letting everybody watch them."
Alec has a very bright and busy future ahead. He will attend the University of Nebraska-Lincoln next fall, majoring in Sports Media and Communications at the School of Journalism and Mass Communication. School aside, Alec has locked-in a spot as a member of the Athlete Nation crew, where he will use his writing and video skills. To top it off, Alec will also balance an internship with Husker Online making video content.
When asked about future goals, Alec said, "I want to create things." He's working on his personal brand, AR Productions, where he will continue to chase his love for creating content for his own enjoyment, and for other people.  He finished by saying, "Creating content is a daily part of my routine."
Alec's leadership and superb broadcasting skills have proven to be a recipe for success as a student and intern next fall. We are very proud of Alec and his excellence in sports broadcasting at Omaha Central for three years.   We wish him good luck as he continues to use his gifts, talents, and hard work ethic to be a content creator.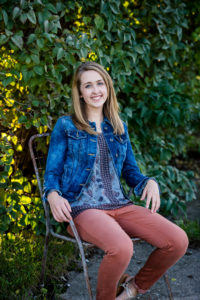 Emily Oestmann of Johnson-Brock has a love for creating videos and has proven to do it very well. When she's not creating content, she's participating in FFA, competing at the national FBLA competition as their co-president, and engaging in speech and performing in one-acts.
This four-year Striv student discovered her love for broadcasting in junior high when she began watching recorded broadcasts over and over again. She enjoyed the little details of the broadcast, such as camera angles, lighting, and how the hosts were conveying their message.  
In high school, Emily took the lead to help run all LIVE streaming operations for Johnson-Brock's events. She learned how to deal with pressure and problem solve, specifically stressful moments when she had to live stream by herself. Emily is also very busy with her digital media class, exercising her love for video and keeping her close-knit community involved with the videos she's creating. She learned to ask herself questions like, "What doesn't look right?" or "What would this look like on a screen?" Continually pretending her eyes are the camera and finding the correct placement for the real camera to bring the video in her mind to life.
Peru State College will be Emily's new home this fall, where she plans to complete her ACE courses in two years while working as an intern for their Marketing department. She plans to finish her four-year degree at The University of Nebraska-Lincoln, where she will graduate from The School of Journalism and Mass Communication.
When asked about future goals, she said, "I want to be a wedding videographer and have my own business, but ultimately, I want always to be creating." Emily reiterated continuing to build her social skills by interviewing new people, being in new areas, learning new things, and sharing videos with people and watching their response.  
In Emily's Striv application, she said something that we hope every student will feel. "The last and most important thing that Striv has taught me is that everyone has a place. I've explored career opportunities in every branch of work from hair stylists to park rangers to engineering… With opportunities available thanks to Striv, I have strengthened my videoing skills and more importantly have gained the confidence to create my own business."
We are very proud of Emily and can't wait to see where her gift of creating videos will take her.  Whether that's being an entrepreneur or something else, her talent, big heart and drive to keep learning will carry her far.
Congratulations to our 2018 Scholarship Recipients! We are very proud of their hard work and dedication to sharing their school's story!