From Player To Broadcaster: Featuring Senior Bearcat Geoff Exstrom
October 24, 2017

Posted by:

Sara Brune
Many of the best sports broadcasters were once players. In this case, senior Kearney Bearcat, Geoff Exstrom — who's is also a part of the Bowling Club and National Honor Society — found his passion and soon-to-be future career after trading in his jersey for a microphone.
With a voice for broadcasting and a background in sports, Geoff's football coach suggested that he become the voice of Kearney High during his sophomore year of high school.  The rest is history as Geoff turned his new-found passion into a full-time student activity, calling all football, basketball, wrestling, soccer and volleyball games for Kearney.
Geoff is a busy Bearcat. He took the role as Public Address Announcer for many of the Kearney Legion Runza Senior team's games this summer, called the KHS Powder Puff Championships this fall and broadcasted the 2016 KHS Student-Staff Basketball game last winter. As a junior, he was one of 25 students selected to be part of Youth Leadership Kearney, a program considered to be one of the most prestigious programs outside of Kearney High.
"Geoff has established a student broadcasting culture here at Kearney High School that others will be emulating for years. His attention to detail and desire to try new things to bring attention to Kearney High athletics is truly remarkable. Geoff understands his role as an ambassador for Kearney High School through his presence on our Striv channel and the many people who watch our broadcasts throughout the state and the nation." – Robert Goff, Media Production Teacher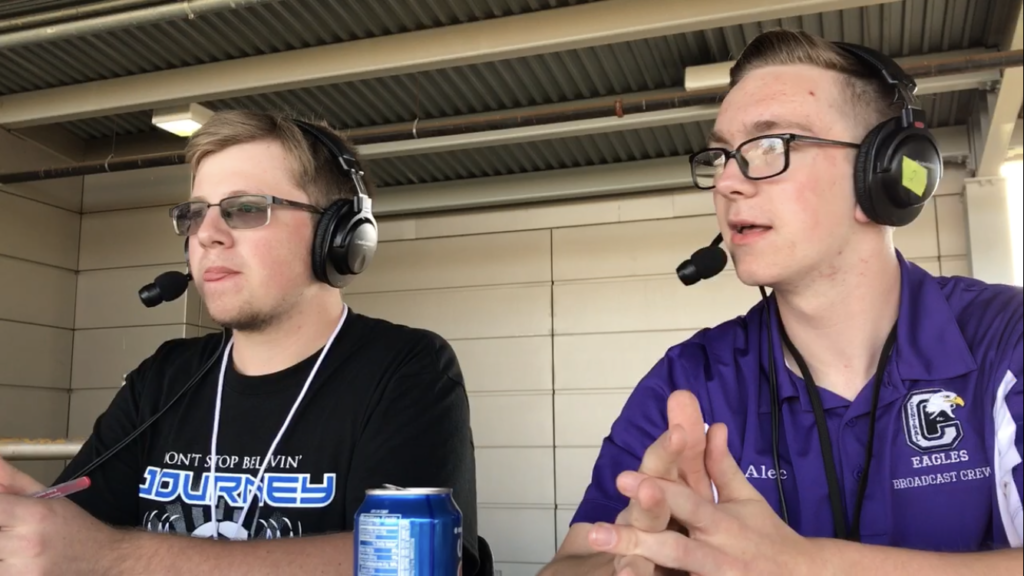 Geoff is a student who goes above and beyond to get the best sports coverage for his school. He recently started conducting postgame interviews.  
"We've gotten good traction with our post-game interviews, Geoff said. "You don't get to hear things like that on the radio."
Being the savvy social media student he is, Geoff shares his interviews on Twitter. Check it out → 
It's always next man up for KHS. Brayden Miller's thoughts on coming in at QB: @KHSbearcatFB @BraydenMiller9 #nebpreps pic.twitter.com/ZGaJAVfxeO

— Geoff Exstrom (@Ex_On_Sports) October 14, 2017

While Geoff keeps himself busy with Kearney's sporting events, his journalism goes farther than broadcasting. He is a sports writer for Kearney's magazine, The ECHO and host of his recently created podcast, BSN 2.0.
"My podcast started two weeks ago," Geoff stated. "It's a way to get updates from all Kearney High athletics, with a mix of match-ups, interviews and opinions."
He shared his excitement to interview a variety of people from both Kearney High and those from around town.
Geoff had the rare opportunity to attend a High School Media Innovation Camp at Arizona State University. Selected out of 130 applicants, Geoff's 2-week stay at one of the nation's best journalism schools allowed him to gain a greater knowledge of the broadcasting world. While at camp, he covered the minor league soccer team, Phoenix Rising, met famous sportscaster, Al McCoy and got an overall taste for what it's like to work at a news station.
Geoff credits his Media Productions II teacher, Mr. Robb Goff for much of his success. He described his time in Mr. Goff's class as, "instrumental" where he can be creative and get his work done. Geoff expressed gratitude as he explained Mr. Goff's willingness to sacrifice his personal time to stay after school and help with weekend games.  
A future Kearney Loper to be, Geoff is looking forward to furthering his passion by studying Sports Communication and jump into broadcasting Loper sporting activities next fall.  
Geoff is an excellent Striv student, to say the least.  We enjoy following him on social media as he continues to excel time and time again.
We wish Geoff the best of luck with the rest his senior year, his endeavors at Kearney and future career! We know you will do amazing things.