Striving To Create: Hunter Radenslaben
"I prayed every night that someday I would make a difference."
This is a story about a 19-year-old Waverly, Nebraska native who built a sports media company at age twelve. How? He created a Twitter account and began to Tweet, and he did that very well.
"I'm just a Nebraska kid," Hunter Radenslaben stated, explaining how he considers himself an ordinary guy who figured out how to use his resources. "I was able to build a platform where I can reach millions of people a month."  
Growing up, Hunter enjoyed playing sports. He was well rounded in picking up football, baseball and track and field. He had an early love of all things sports. As he entered high school, Hunter involved himself in whatever activity he could. His family favorite events included vacationing with his parents and little sister. He was a Midwestern kid enjoying all the things offered to him in life.
Then things changed. Hunter was fourteen when life would become entirely more different than most of his classmates. That was when his mom lost her battle with cancer. What began as an initial battle with breast cancer when Hunter was twelve, cycled into a battle of thyroid cancer and eventually terminal breast cancer.
"[My mom] saw first hand that life is short," Radenslaben said. "She valued family, always worked hard, remained positive, and used every opportunity to make the world a better place."
Hunter wanted to do the same thing with his life.
In June 2012, while Hunter was watching his mom face the fight of her life, he created the Twitter account, Athlete Nation, to share words of encouragement and stories about adversity in life and sports; he was twelve. He admitted to tweeting 50 times a day saying, "I was bored, so I tweeted." His tweets weren't just for his own entertainment. He was beginning to build something he probably had not realized was happening at the time. He quickly found that people related to his tweets. He had a gift for reaching people right where they were and his Twitter community grew and kept growing…rapidly. He built a following of 10,000 within one month of starting the Athlete Nation account.
With the magnitude that Twitter carries in the social media world we live in, it is a phenomenal event when someone starts an account that has a reach go so wide; so rapidly. Let alone if the person behind the account is a twelve year old boy with a vision to do what his mom was showing him; positivity, work ethic and so much more.
Five years later, Hunter has grown Athlete Nation into a sports media company that strives to share the stories in sports that deserve to be told and need to be told. It has a Twitter following of 81.4k and a team of feature writers, podcast hosts, social media strategists and an advisory board.
"I want to help students create and share their story," Radenslaben stated, describing his passion to help students develop a goal-oriented, purpose-driven life.
"While there are outside circumstances that can impact our lives, we are 100% in control of what we want and what we do."
But it doesn't end there. Radenslaben is balancing his first year of college at the University of Nebraska, Lincoln as a Business Marketing major with a minor in Entrepreneurship.
 During his 'free time', he travels around the state fulfilling speaking engagements to share the story of Athlete Nation with administrators, principals, teachers and students.
 Hunter began his public speaking career in 2015 after he took a leap of faith. He decided to apply, got accepted and shared his story, "One Person Can Change the World," at TEDxLincoln. He spoke to a live audience of 600 people; a big change from his small senior high speech class.
 "When I saw the words resonate with the audience, I fed off their emotion," Radenslaben stated. He was once a kid that would get sweaty palms and a flushed face when faced with public speaking. But this was a new territory at TEDxLincoln. He saw things differently. "I was then empowered to share my story and the impact it could potentially have."
 Hunter later connected with our own Taylor Siebert on a "social media in sports" panel and was later asked to interview on a Class Intercom Podcast. Tim Huls, Principal and Athletic Director at Hampton High School heard the podcast and asked Hunter to share his story with his students.
 The door was then opened for Radenslaben as he accepted requests from Grand Island High School, where he spoke to their crowd of 2,600 people, along with Fairbury High School, Deshler Middle School, Pierce High School, Hastings Middle School, Iowa Student Leadership Conference, FCCLA Leadership Conference, Striv's Social Media conference and an ESU conference in Kearney. It was quickly apparent that Hunter's story was one needing to be shared.
 Radenslaben's self-determination to empower others required him to step out of his comfort zone. He credits his courage to the support he receives from his dad and deceased mom, whose legacy s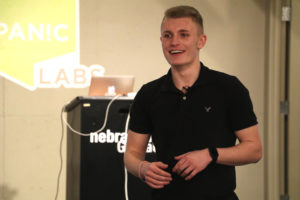 till fuels his persistence today. Along with his parents, he has had much support from his high school principal, speech teacher, TEDx speech coaches, and others he has met via social media, such as Mike Smith, founder of THE BAY, Kyler Erickson, who speaks on tour with Mike Smith, Taylor Siebert, Jon Ruybalid, Professor at Grand Canyon University and COO of Striv and Ben Pankonin, CEO of Social Assurance and Co-founder of Class Intercom
 With big decisions on the horizon, he plans to press forward as he balances his roles as CEO of Athlete Nation, public speaker and college student. "We are just getting started," Hunter said. "I look forward to growing Athlete Nation as I continue to tweak my message, find new inspiration and share more stories that need to be told."
 Hunter's story is inspiring. It proves that he is undoubtedly driven and has a true gift. He is an example of courage, with a heart that aspires to empower others, live-out his purpose and help students share their story.
 "When you create and actively leave your mark; that's when opportunities come."
---

Hunter is a great role model for students looking to find their purpose. He encouraged us to give out his information, inviting anybody to reach out. Whether that's further detail about his story or how he got to where he is today.
"Hone in on what you're good at. Actively pursue everything. Figure out your passion. Get involved in your school. Just and do and figure out what you love."
Connect with Hunter:
@HRadenslaben
@AthleteNation
https://www.facebook.com/hunter.radenslaben
Written by Jessica Siebert and Sara Brune