Striving To Create: Brittany Pair
Passion Brings Opportunity for Nebraska Wesleyan Senior
Not everybody gets to say they have planned events for organizations as big as the NFL, but for Brittany Pair, this is a part of her journey and a stepping stone to her future.
This is not just something that fell in her lap, either. With a fearless heart and exceptional work ethic, Brittany has chased the passions she discovered at a young age.
Born and raised in Longmont, Colorado, Brittany attended Skyline High School; a progressive school home to the only Science, Technology, Engineering and Math (STEM) program in the District. The school also provided students with Visual and Performing Arts which Brittany fully embraced. She grabbed hold of her love of piano and also joined the Jazz Band.
While it was clear Brittany had a knack for music, she had another interest she was following; sports.
Not only did she excel in volleyball, which later landed her a role on a college volleyball team in Nebraska, but considers baseball to be a favorite pastime for her. Brittany became entertained by the game of baseball when her twin brother started playing as a kid, and you would find her keeping a meticulous scorebook for the team, cheering them on, and continuing to support just another passion she had.
When Brittany chose Nebraska Wesleyan in Lincoln as the college to continue education, she dove-in head first. She was an outside/right side hitter for the Prairie Wolf volleyball team as well as a member of Willard Sorority, where she held an executive position for one year. She also balanced two jobs as Head Event Manager at Wesleyan as well as the NWU Baseball student manager and, you guessed it, was in charge of the official stats for the team. She kept these extracurricular activities priority all while pursuing a Sports Management degree that she will receive when she graduates from NWU this May.
There are just a few more components to Brittany's story that make some wonder how she balances it all.
As a Sports Management major, Brittany needed to fulfill internship hours and wanted to push the limits on where she could go with the talents she possessed. She utilized her contacts to land an internship at UNL as their Events Coordinator where she worked The Big Ten spring sporting events (gymnastics, track and field and football).
This internship experience made her realize that it was pertinent to keep living for what she really wanted to do. With a leap of faith, Brittany went to Washington D.C. to put on another hat; a really exciting hat. She now found herself to be an intern in Hospitality and Events for the NFL Players Association.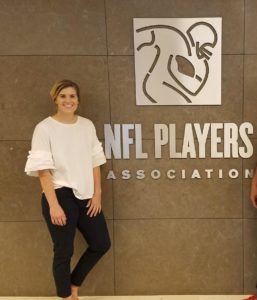 Brittany experienced a big-time position planning big time events. Just a few to mention would be the 2018 Super Bowl, NFL Draft and Myles Garret's (who was drafted by the Cleveland Browns) at-home draft party. She prospected and searched for high-class venues and caterers for the many events she assisted in planning.
"It was so good to see my hard work pay off on the big screen," She said.  
Brittany is a real-life success story for anyone who knows her. Even if you don't know her, it just takes a quick look at what she has accomplished to realize she is working hard and doesn't seem to see an end in sight.
With an undergraduate degree almost in her pocket, Brittany's future continues to grow brighter as she prepares to be a graduate student at Georgetown University during the fall of 2018.  There, she will work towards a Masters in their Sports Industry Management program and pursue a full-time job once she graduates.
It's no lie that the Brittany has a world of opportunity ahead of her.  She follows her dreams, will outwork anyone else and most importantly: she does what she loves.
When asked how she has achieved so much success, her advice seemed simple. "Don't waste time with jobs that won't get you to where you want to be going…Figure out what you are passionate about and make those connections. People are willing to help you and will help you pay it forward. Don't be afraid to reach out and don't be afraid of rejection. Optimism and positivity." 
Brittany Pair has taken her own advice and ran with it. She stays humble through all the connections made, hard work put in and countless hours perfecting her craft; all while loving every minute of it.
______________________________________________________________________________________________________________________________________
By: Jessica Siebert & Sara Brune