StrivU Online Summer Academy
April 14, 2014

Posted by:

Taylor Siebert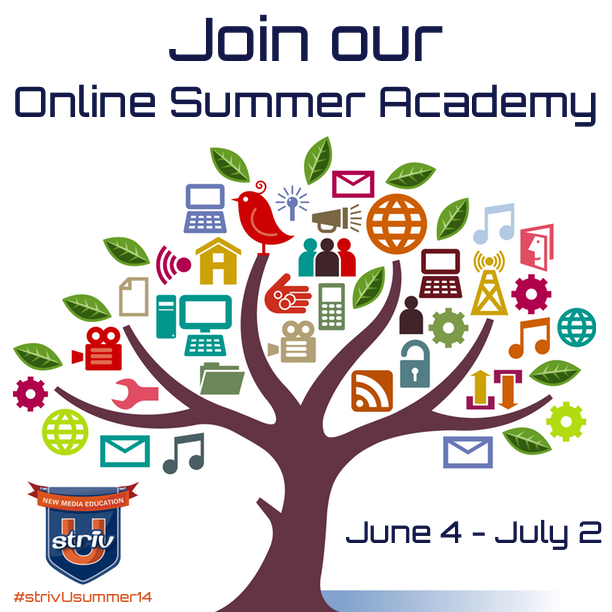 As we near the end of the 2013-2014 school year we're excited to share with you about a great summer opportunity for students with StrivU. If you are a teacher we encourage you to please forward this to your students and if you are student please consider this great opportunity and resume builder this summer through StrivU!
The StrivU Summer Academy will be held over four weeks online during the summer. Students can work individually or as a group on their project. The project will include developing a marketing campaign for a local business in your community. The campaign will include creating a short video, promotional graphic, promotional blog post & social media marketing strategy.
Throughout the class students will be provided resources through our Google+ Community (students will need a Gmail account) and be able to participate in Hangouts with folks in the media industry. The Google+ Community will also provide a great way to connect with others in the class by asking questions, posting ideas & work they've created to gain feedback as they develop their campaign.
The class is set to begin June 4 – July 2. The cost of the class will be $65 per team (teams can be up to 10 students). There will be specific deadlines for each part of the campaign. It will also be evaluated on certain elements of what is created and the overall campaign by the Striv team and business owners/leaders in the media industry.
Sign up your team today and prepare for the future of new media through the StrivU Summer Academy.
Click the "Buy Now" button to pay for the class online or you can send payment to Striv, Inc. PO Box 385 Henderson, NE 68371. Also fill out and submit the form below.
StrivU 2014 Summer Academy
Author: Taylor Siebert
CEO/Founder of Striv, Inc.