RECENT POSTS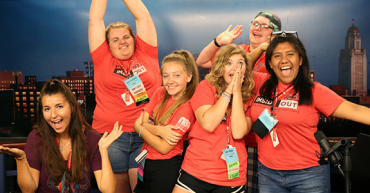 Sign up for the 2017 NHSPA Summer Journalism Camp!
We're excited to be apart of the annual Nebraska High School Press Association Summer Journalism Camp this summer at UNL! The camp is held July 17-19. For the past couple of years we've had the honor to be in charge of the Video Production track. Students will learn how to create better and more engaging […]
NEW: Striv Scholarship Application
We're excited to announce our first Striv scholarship opportunity for graduating seniors! Please forward the google form link below to any eligible seniors in your Striv class, club, program who are interested in going into a new media related career. https://goo.gl/forms/JvkqmgYYtm0WAMal1 We will award one student (the scholarship may be split for two awardees at […]
Heitmann Hears Calling
It was a typical day for Thayer Central High School senior, Russell Heitmann. Fall sports were in full swing and he had just returned from competing at a cross country meet. As he returned to the school to grab his things and presumably get ready to head home or watch classmates compete, he was approached […]
STAY TUNED

WITH US

Subscribe now and receive weekly newsletter with educational materials, new courses, interesting posts, popular books and much more!